Best Car Detailing Kelowna
Exterior And Interior Professional Auto Detailing Service
Are you tired of getting in a dirty car? Let our detailing specialists bring your vehicle back to life! Our proven restoration process will leave your paint shining, and glass glistening, and the interior will smell brand new… In fact, our goal is to make your car feel even MORE special than when it was new!
Detailing times are estimated for online booking purposes. Actual completion times may vary.
Appointments may be scheduled throughout the week but actual detail work will occur on Fridays and Saturdays between 9 AM and 5 PM. 
Mission Car Wash Is Proud To Provide The Best Car Detailing In Kelowna!
"Attention To Detail, Professional Equipment, Eco-Friendly"
Many people think a car wash and car detailing are the same thing. But in reality, when you get the best car detailing, what you get goes way beyond a normal car wash.
The best car detailing makes a vehicle look spotlessly clean both inside and outside. We remove spots, stains scratches, and hard-to-remove road film and bring back your vehicle's shine.
Depending on the package you choose, full car detailing can involve a few hours of deep cleaning even though we use specialized cleaning equipment, the best finish restoration products, and trained detailers.
Whether you want a routine cleaning or preparing your vehicle for a sale, our auto detailing services will make a huge improvement.
If you want the best car detailing in Kelowna, Mission Car Wash provides the quality you can count on.
Not Just Car Detailing
In addition to cars, we also provide detailing services for SUVs, trucks, trailers, vans, boats, motorcycles, and other kinds of vehicles that require top-notch cleaning, shining, and detailing service.
Why In-Shop Car Detailing Is Better Than Mobile Detailing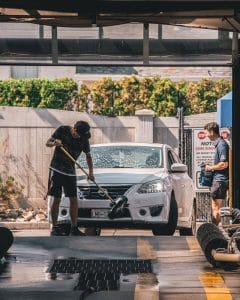 Mobile detailing can be convenient, but the quality of cleaning and shining is limited by
The availability of space
Less than optimum water pressure and
The limited access to high-end equipment.
In our in-shop auto detailing facility, we provide temperature-controlled water at the right pressure to remove even the most stubborn dirt and grime from the body of your vehicle, tires and rims, undercarriage, and mats.
Then there is the question of drainage.
Is there going to be proper drainage of all the dirt, grime, and chemicals that come off your vehicle if it is not in a shop environment?
If the mobile detailing is being done in your driveway, will a lot of the drainage end up on your lawn? Will the chemicals and grease coming off your vehicle stain your driveway?
A shop environment for detailing provides the best opportunity to do a proper job of cleaning your vehicle inside and out.  You get much more value for your money.
Exterior Detailing
Exterior Cleaning, Polishing, And Waxing
Exterior detailing isn't just a simple wash of the outside of a vehicle. It's a more complex, intensive detailing of its exterior components.
Even though your vehicle is designed to withstand the stresses and strains of road salt, bug splatter, rocks, gravel, and/or dust from construction areas, it ages the look of your car.  No matter how many car washes you get, your vehicle just loses the attractiveness it once had.
Our state-of-the-art exterior detailing process can help improve the look of your vehicle and make it look like new again by removing minor scratches, damage, and general wear and tear using products like de-greasers, waxes, and detergents.
Exterior Detailing Services Clean The Exterior Of A Vehicle
Cleaning the undercarriage
Restoring or exceeding the original condition of the surface of the car's finish
Buffing and shining chrome trim
Cleaning windows inside and out
Shining and polishing all the mirrors
Detailing wheels and tires - cleaning weather stains, grease, dirt, brake dust, debris, road grime, and other sticky stuff
All visible components of your vehicle
Engine Bay Cleaning
Clay cleaning to decontaminate paint
Air drying to force out water from nooks and crevices
Wiping the excess moisture with a microfiber cloth so there are no spots or streaks after the car dries.
Polishing the exterior
Hand buffing and waxing
Cleaning and Shining of the tires, wheels, and rims to bring out their full beauty.
Interior Car Cleaning Kelowna
A thorough interior detailing job will not only make your car look great, but will also help protect the seats, carpets, and other surfaces from wear and tear.
A trained detailer will remove all the built-up dirt, dust, and grime that can accumulate over time and cause unpleasant smells.
Mission Car Wash professionals performing interior auto detailing Kelwona will vacuum clean the carpets and the floor mats and then spray all the carpets with a non-toxic industrial shampoo.
Once the shampoo is applied, the surfaces are scrubbed with utmost care so that all the stubborn dirt is removed.
Then re-vacuuming is done to eliminate all the remaining dust particles.
In case we feel that your vehicle needs extra power cleaning, we will go for spot treatment.
Our auto detailing professionals will thoroughly clean even the areas at the extreme corners which are hard to reach.
Dirt and grime and other pollutants are thoroughly removed from all plastic, vinyl, leather, and rubber surfaces.
Depending on what is needed, our interior car cleaning services use steam cleaning or shampooing.
All vinyl and plastic materials are thoroughly cleaned. We will do the same for any leather material
Detailing packages include proper cleaning of the passenger area as well as the trunk region.
Our shampoos and other cleaning products are made up of environment-friendly and biodegradable materials which do not contaminate nature.
Total Interior Car Cleaning
At Mission Car Wash we believe in complete satisfaction. We provide wiping services for all interior dashboards, door jams, and interior glass surfaces.  We also take care of the interior sides of the doors and the windows.
If you wish to add some extra glamour, at your request, we can add a beautiful smell by choosing from a range of fragrances like mountain pine, lemon, cherry, vanilla, strawberry, and more.
Carpet, Leather, And Upholstery Shampooing
Our exclusive shampoo treatment removes dirt and almost all stains from your vehicle.
This special treatment disinfects the total inside area and protects your vehicle from being the breeding ground for bacteria.
Fabric Stain Protection
Fabric protection is a good idea for preventing stains. Our fabric treatment also strengthens the fabric and saves you money since you won't need car detailing as frequently.
We apply quality fabric protection that seeps deep into any kind of fabric and repels dust and stains. This helps the interior of your vehicle stay clean and healthy for a long period of time.
Fabric safeguards can be applied to floor mats, carpets, and upholstery. Since the fabric treatment prevents the absorption of liquids, all you need is a moist towel to get rid of most things that could leave a stain.
Vinyl and Rubber Protectant
The plastic, vinyl, and rubber surfaces in the interior of the car get a natural shine on the application of the protecting material.
At Mission Car Wash, we use a special hypoallergenic solution to protect plastic, vinyl, and rubber material in your vehicle.
Vinyl and rubber protectant is designed to rejuvenate surfaces and neutralize the damaging effect of harmful ultraviolet rays.
It also prevents the accumulation of dust and dirt and also provides an attractive natural glaze to doors, console, dashboards, and other parts of the interior of your vehicle.
Premium Leather Protection, Cleaning, And Conditioning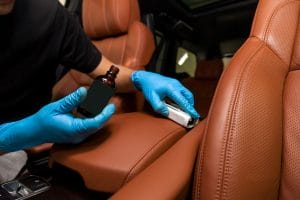 The leather surfaces are a very important part of the interior décor of your car and need to be properly maintained.
We understand you don't have the time to constantly take care of your leather so our auto detailing Kelowna professionals provide premium leather cleaning and protection service to keep your leather interior looking and feeling luxurious.
The protectant we use safeguards your leather from drying, fading, or cracking due to continuous wear and tear.
It is a good idea to get all leather surfaces treated once per month to preserve the leather interior and keep it looking fresh and new.
We provide the best car detailing Kelowna solutions for the protection of leather that include both cleaning and conditioning.
The experts at Mission Car Wash will smoothly clean the interior leather surfaces with a good quality industrial leather cleanser that is PH-balanced.
Once the leather is thoroughly cleaned, a conditioner is applied to lock in the moisture. This helps in enhancing the life span of the leather and reduces the cost involved in frequent replacements.
Maintaining a clean car interior is important for many reasons. Not only does it make your car look nicer, but it can also improve your driving experience. A clean car is a happy car, and when your car is happy, you're likely to enjoy driving it more.
Stain Removal
We use deep cleaning techniques to remove any stains you might get from milk, baby formula, pens/markers, paint... you name it, no matter how long they've been there.
Deep Cleaning Carpet And Seats
High Power Carpet And Seat Shampoo - If you need to deep clean your seats to get rid of any stubborn stains or smells, we've got you covered! Our safe, yet-effective shampoo cleaners allow us to remove unwanted odors and stains while preserving your interior.
Note - all interior cleanings come with exterior wash.
Interior Car Cleaning Steps
1. Vacuuming the seats, carpet, mats, floor, upholstery, dashboards, and other hard-to-reach areas.
2. Shampoo & steam carpets, which will remove stubborn salt & mud stains, removal of stubborn stains caused by makeup, suntan lotion, oil, tar, food, and other stain-causing substances.
3. Shampoo & steam clean fabric seats, which will remove body oils, spills, and food stains.
4. Leather cleaning and reconditioning using a PH-natural cleaner and a high-quality conditioner. After the leather seats get dry a leather conditioner is used to recondition the surface.
5. Washing and cleaning of the glass to remove all kinds of stains and streaks.
6. Cleaning of hard surfaces like rubber door moldings, dashboards, plastics, interior trim, panel seams, safety-belt buckles, and so on.
7. Apply solvent-free UV protectant and silicone-free conditioner to your car interior's vinyl and plastic areas.
8. Re-vacuuming after finishing cleaning.
9. Use an air freshener to deodorize your vehicle's interior. (Upon Request)
The car interior detailing service at Mission Car Wash is just what you need to keep your vehicle's interior clean and protected.
Premium Truck, Van, And Car Detailing Service
Our best car detailing in Kelowna includes:
Cleaning The Engine Bay
Engine detailing involves the removal of built-up grease and dirt from your engine bay.
Loose leaves and debris mix with grease and dirt in the engine area, which builds up in engine bays as part of normal day-to-day operation.
Most accumulated dirt won't cause any kind of serious mechanical defect but it can make it difficult to find faults when something does go wrong with your vehicle, both you and your mechanic.
Salt Stain Removal in Kelowna
Road salt can cause a lot of wear and tear on the exterior of the car, but salt can also get into the vehicle and create a dirty environment inside.
Elements such as snow and ice are not the highest risk to the car, but salt and other harsh chemicals are.  Road salt can really age the appearance of your vehicle.
Your car takes a beating every winter due to the high amount of salt used by local governments on local roads and highways. Ice and salt gets lodged into wheel wells, fenders, rocker panels, undercarriage, and doors.
Also, many de-icing chemicals used during the winter months are corrosive and can rust unprotected metal surfaces of your vehicle.
So removing salt, sand, and sludge from a car is essential for it to function properly and look good.
Headliner Cleaning
Cleaning the car headliner incorrectly may lead to sagging, deterioration, and headliner detachment causing unnecessary expensive repairs to your car ceiling.
Let our knowledgeable and experienced staff safely clean your vehicle's headliner with specialized cleansers, directed air pressure, and the application of steam.
Paint Correction
Paint Correction is the removal of defects in your paint to return it to a fresh state, or make it look even better than new.
Car detailing involving paint correction involves removing swirling marks, surface scratches, RIDS (Random Isolated Deep Scratches), holograms, oxidation, marring, water spots, and bird droppings.
Holograms are micro scratches instilled into your vehicle's paint by the fixed circular rotation of a rotary polisher combined with an aggressive pad and or polish.  These defects are often caused by automated car washes or inappropriate washing methods, but can also be from fingernails, key scratches, or other causes.
It is very common to see detail shops using products known as "fillers," which fill the scratch temporarily but do not remove them properly.
If you've ever wondered why after a few washes the car looked in bad shape, you'll understand it's been a fast task of cover-up. The only real, true way of eliminating these flaws is through the paint correction method.
We can clean & power polish your painted surfaces to an almost like-new shine that brings back the luster in your paint.
For vehicles with paint in a little worse condition, a three-step polish will greatly improve the finish by removing minor imperfections and light scratches by performing our high-tech paint correction techniques.
Power Polishing
The power polishing process uses advanced compounds to buff away light scratches on the clear coat of the paint job.
First, a micro-abrasive is used to polish or cut the surface.
Second, a less abrasive polish is used and after that, a wax sealant is applied to help with protection.
The power polishing process gives a new shine and a clear improvement to the finish.
The results will be more evident on vehicles that have never had a power polishing job done.
Mission Car Wash Power Polishing brings back that luster and shine!
Power Polishing is required when you have contaminants on your vehicle such as:
Tar
Tree Sap
Over Spray
Road Paint
Rock Chip Touch Ups
Bird Droppings
Rail Dust
Cement Removal
Stain ( Clouding )
Car Detailing Cigarette Smoke And Stubborn Odor Removal
It isn't easy to remove odors from a car or truck. One of the most frustrating aspects of purchasing a used car is when you detect cigarette smoke, pet odors, puke/vomit odors, body odors, bacteria, mold, or other lingering smells.
Some car detailing companies will try to eliminate or mask unpleasant odors with sprays or deodorizers. Those treatments often fail. Many strong odors are nearly impossible to remove and require a professional's touch to eliminate them.
We eliminate odors, we don't just cover them up!
You'll notice a big difference when we remove the odors for you properly.
Ozone Odor Treatment
Ozone odor treatment can be used to remove smoke, cigarette, cigar, pet, molds, mildew, and any other organic odor from your car.
Ozone treatment is the use of gas ozone (O3) to remove odors, bacteria, and viruses.
In advanced situations, depending on the intensity of the smell, the ozone generator is placed in the vehicle for a specific time. When the gas permeates the car, the odor is neutralized and all bacteria and viruses are killed.
Ozone treatments are the best way to remove stubborn odors. Since it is a gas it can reach upholstery far below the seat.  It saturates upholstery fibers and enters all corners and holes you cannot get access to any other way.
One of the biggest causes of vehicle odor that cannot be eliminated is cigarette smoke. Phenol, an invisible chemical in secondhand smoke, causes eye and respiratory tract irritation. Ozone treatment completely oxidizes the remaining phenol gas and effectively neutralizes odors. In this case, the molecules are destroyed instead of being masked or filtered, so the smell does not return.
Best Headlight Restoration Service
UV from too much sun exposure affects the acrylic headlight lens and causes oxidation which leads to foggy-looking headlights or discoloration.  Headlights have a clear coating to reduce this effect but it gradually wears away and the lens.
Plastic headlights haze and yellow with sunny weather.  When road grime is added to hazy lights night visibility is greatly limited.
Your headlights start to look dirty or hazy all the time, taking away from the appearance of your vehicle.
Heavy oxidation reduces light output from your car headlights. This can increase the risk of accidents, particularly when driving at night.  Headlight restoration can help to avoid this.
Studies have shown that daytime running lights reduce car accidents.  Cleaning cloudy and foggy headlights not only prioritizes road safety day and night.
Properly done headlight restorations performed on a regular basis can help save money that you would otherwise have to spend on a costly headlight replacement.
Don't settle for dull, hazy, milky, or foggy lights! We will happily restore your headlights to their brightest, increasing your night vision and leaving them looking brand new.
Our auto detailing service will restore your vehicle's lights to their optimal function!
Nothing beats the clarity and shine of new-looking headlights on a car. Other than adding to your vehicle's appearance, clear headlights are necessary to be able to drive safely at night.
At Mission Car Wash we can restore your clouded, discolored or yellowed headlights as well as your fog lights and directional lights.
Interior Floor, Carpet And Mat Shampoo Service
The shampooing package includes deep cleaning of the carpet, seats, and any other fabric material.  You also get protection from stains, spills, mud, salt stains, and just about anything.
Our steam vapor deep cleaning system will not only clean but disinfect and kill all bacteria and germs including mildew and smoke stains without using harmful chemicals.
Leather Conditioning And Leather Protection
Leather seats give the car a sense of luxury. They are a bit expensive and require regular maintenance to keep them looking good.
Leather seats can show signs of wear and tear gathering dirt, grease, and even body sweat. The longer the seat stays dirty, the more likely it is that essential oils will be lost and the leather will start to crack.
Like shampoos, leather cleaners help remove dirt, debris, and oils from the interior.
Even if the interior looks clean, you will be surprised to find that a good layer of soil builds up on the seat. The layer of dust and oils needs to be wiped off regularly with a good quality leather cleaner.
Leather conditioners we use, nourish the leather and prevent it from hardening over time.
Treat your car leather like your skin, and make sure it is not too wet or too dry. Regular use of quality cleaners and conditioners helps to maintain the luxurious quality that the leather is known for.
Car polishing service
Buffing, Polishing & Hand Wax COMBO
Our 3-stage Compound, Polish & Gloss combo will not only remove oxidation & light scratches, but it will also reveal a rich like-new gloss.
Hand buffing and polishing services use our NXT generation wax is applied using a non-scratching microfiber cloth & sponge.
This process leaves the car exterior spotless.
A final coat of paint protection is applied after waxing to ensure the new surface is adequately protected against the elements such as rock chips, gravel, and extreme weather.
This is a standard procedure and is included in the Hand Wax COMBO package.
Fabric Guard Fabric Protection
Our Fabric Guard treatment helps protect against repelling liquids, dirt, dust, and grease while protecting against damaging UV or sun exposure.
Fabric protection is applied to fabric seats, carpets, upholstery, and convertible tops.
The fabric of your car is at risk every day from normal wear and tear. Fabric Guard or scotch guard treatment will help keep your seats, carpets & upholstery clean by creating an invisible barrier between the dirt and Fabric.
This is highly recommended after every interior detailing.
Pet Hair Removal
At Mission Car Wash we have an extremely powerful drum vacuum that has 10 times the suction of any high-powered single outlet shop vacuum.
We also use a cyclo-brush upholstery cleaning machine to assist with lifting dog hair and other pet hair removal.
Our powerful equipment makes it possible to address whatever quantity of dog hair you have in your vehicle.
You do not need to make any special arrangements when bringing your vehicle for Dog Hair Removal.
For those who have tried to remove Dog Hair with a vacuum from carpet or upholstery, the difficulty of removing dog hair is obvious.  Dog hair is more rigid than Human Hair, and it is able to burrow deep into fabrics.  The hair goes so deeply in fact that vacuum suction is not enough to pull the Dog Hair out.
Brushing is needed to assist the suction in lifting the dog hair out of fabrics.
Incorrect brushing and the wrong direction of suction can also burrow dog hair deeper into the fabric.  The burrowing effect of dog hair is the single greatest challenge when trying to completely remove dog hair.
The length and colour of the Dog Hair removed also present challenges.
If the dog hair is the same colour as the fabric it is extremely difficult to remove since the vacuuming and brushing needed are hard to manage if you can't see the results.
Broken Glass Removal
The best way to clean broken glass from a car is to use a shop vac and thoroughly vacuum all the glass pieces, paying special attention to cracks and crevices around car seats.
Our vacuum cleaners are specially designed to have the power to suck up all the debris left by the shattered glass.
Understand that a regular vacuum cleaner that you use to clean your floors and carpets is not strong enough for gathering broken glass out of the car. The recommended device is an extra powerful shop vac with a stronger suction that is capable of picking up all the debris.
Vomit Disinfection
Vomit is rotting organic food mixed with stomach acid. It is extremely smelly.
What's more, it's in a liquid form so it seeps into every little area in your car such as seams of the seats, buttons, air vents, etc.
If you have perforated seats (ie. the fancy leather seats with little holes in them), you can bet that vomit is in the inside of your luxury leather seats already.
We have special tools, techniques, and experience to get rid of the vomit from the source and the smell 99% of the time. It's very rigorous and detailed work.
If you have vomit in your car, give us a call immediately! Don't delay.
Vomit smell seeps into all the surfaces of your car more and more with each passing hour. If it's a hot summer day, you have only a few hours to save your car from permanent vomit smells.
Mold Removal
Mold is a fungus that can be formed if your car has been left in a moist environment for a long time.
The presence of high temperature and above-normal moisture are the two main reasons mold occurs.
People with lung diseases, skin diseases, allergy sufferers, and a low immune system are especially sensitive to it. Exposure to mold can be dangerous for them.
The origin of mold spores is humidity and heat. To be very specific, if you left your car's sunroof open on a rainy day or somehow any liquid is left inside your vehicle and the weather is damp, then that was the time when the welcome bell rang for the mold in your car.
Any moisture left in your car, even a little bit, can develop mold spores, and it gradually spreads all over the surface.  Mold growth takes from 1 month to 3 months so you won't even know why you are getting allergic reactions until there is a substantial amount of mold in your vehicle.
It is highly recommended not to expose yourself to mold, even if you do not have any disease, or allergies or have a robust immune system.
Symptoms like wheezing, skin or eye irritation, nasal congestion, fever, shortness of breath, etc. can be caused after exposure to mold.  The Chlorohalonata species and Stachybotrys chartarum, also known as the black mold, is especially dangerous.
Steam car washing is an effective way to remove molds from your car. In this method, a steam cleaner is used to clean up the car's exterior as well, as interior car detailing.
Steam cleaning has several health benefits also.
At Mission Car Wash we use steam cleaning in our interior detailing service.  A good way to prevent mold from growing is to have us provide interior detailing services for your vehicle every three months.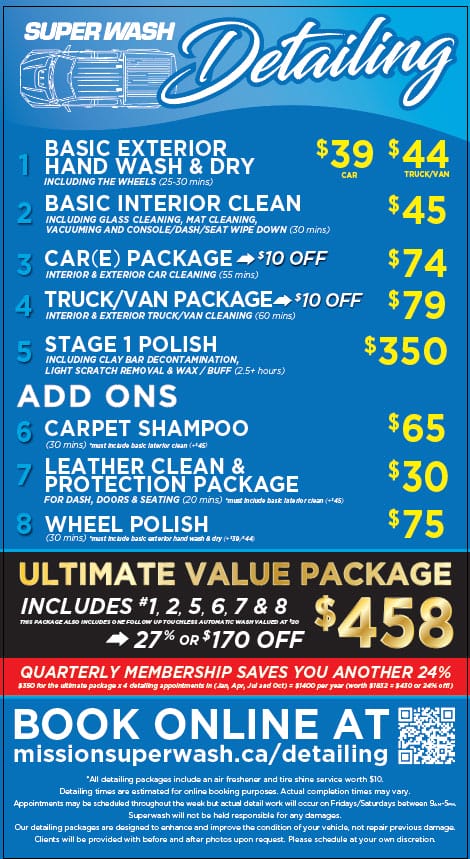 Want To Prepay For Your Wash?